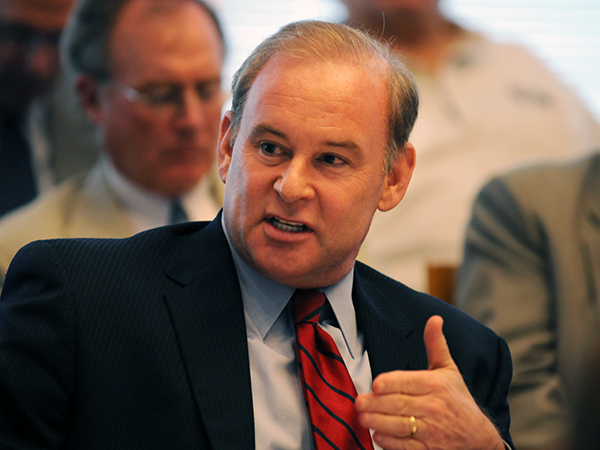 In a new ad put out by Pennsylvania State Treasurer Rob McCord this week, he goes after Tom Wolf by name, and hints at Allyson Schwartz and Katie McGinty.  All of whom are currently in what is quickly becoming a heated race for the Democratic nomination for Governor.
McCord, who is already known to not be on good terms with Congresswoman Allyson Schwartz, has chosen to pick out Tom Wolf, (a businessman from York County) who is currently leading the pack of candidates.  In the ad, titled 'Sucker', McCord says that "Tom Wolf and the others would leave hundreds of millions of dollars in the Drillers' pockets.  That's a bad deal for Pennsylvania.  I'm tired of being played for a sucker."  This marks the first time in this primary race that a candidate has gone negative against their opponent.  Wolf, Schwartz and McGinty have all put out rather positive and pleasant add's, while McCord has chosen to take a more blunt path.  View the ad below-
Also, mentioned in the ad, is his plan to put a 10% tax on drillers in the state.  A terrible plan that will chase good jobs and companies away that this state so desperately needs.
I have a strong suspicion that this will backfire on him, which is not a good thing since he has been found landing in 3rd place among the majority of polling data that has been done by Franklin & Marshall and Harper, only garnering 8%.  While Wolf continues to lead the pack with a 40% lead (PA Democrat Primary Data-RCP).
If there is  anything that I have learned over my years of helping campaigns and watching elections, it is that people aren't all that fond of politicians when they go negative.  Especially when they feel they have been berated with it in the past, and most certainly when there is a candidate who can claim the role of non-politician in the race, and appear to rise above the fray.
Though honestly, this was always McCord's race to lose as he stood up against an uphill battle with just Allyson Schwartz in the race.  Then Wolf entered and crushed any chances he had.  This Democratic primary race is now between the Congresswoman and the businessman.